Assalamualaikum w.h.b and good morning!
BREAKFAST
time bfast je memang sangat lazy to prepare breakfast because i dont have any idea what to cook for my family.pagi2 otak blurrla.hehe
s0, i buatla Fish Nugget's Sandwiches and my homemade Cheesy Wedges and my mum buatkan nescafe.
Sangat senang buat Fish Nugget's Sandwich. The ingredients is
2 slice of Gardenia's bread,Fish nuggets, chilly sauce and thousand island sauce.
and for the Cheesy wedges, i buy the cheese dip from the forum. which is rm19.90 for 500gm.
sorry dont have the picture for Fish Nugget's Sandwiches.
But i have the picture for my homemade Cheesy Wedges.hehe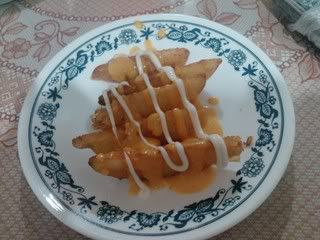 white : mayonnaise
yellow+orange: Cheese dip
The picture is captured by my LG's Hp