Assalamualaikum and Happy Monday Blues.hehe :)
How are you?
i hope u're fine with ur loves
Tengok gambar kat bawah dulu ye.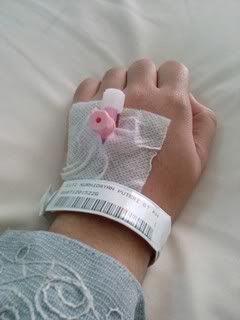 Apa yang korang semua faham bila tengok gambar diatas?
gambar yang menunjukkan gelang tangan plastik yang sangat cantik dan dibuat khas untuk pemiliknya dan tiub kaler pink yang ditampal dengan plaster warna putih.
okla.xnak merapu lebih2la.
Ceritanya macamnie.
Jumaat, 21 Mei 2010
Pergi HKL doktor sahkan yang ada ketulan (lump) kat my
right breast
. Actually, i memang dah tau ada lump kat my breast and tataula why suddenly air mata i mengalir. Maybe xcukup kuat untuk menghadapi dugaan tu. Baru dugaan kecil belum lagi dugaan besar.hmmm..Doktor cakap i punya maybe bukan Cancer just
FIBROADENOMA
. Tapi dia xberani nak kompemkan lagi. Bila dia cakap macamtu lagila i cuak. Maka, makin lajula pengaliran air mata. Malu gila bila lalu kat depan orang ramai. Semua tengok semacam.haha
Then, akibat xsabar2 nak tau apa yang ada kat my breast, i call ajen insurans tanya kat dia boleh x i transfer my case kat private hospital sebab nak tunggu result from HKL punyala lambat. Banyak stages. Alhamdulillah, Insurans kover. So, i transfer my case at
Hospital Pusrawi
Isnin, 24 Mei 2010
Pergi Hospital Pusrawi, jumpa doktor and pergi buat ultrasound. Lepas siap ultrasound, barula doktor sahkan betol2 yang my breast mempunyai lump yang dikenali sebagai
FIBROADENOMA
. Masa dia sahkan tu jiwa i dah kental. xnangis2 lagi and my mind is set for the operation. Doctor set the operation on
Monday, 31st May 2010
.Oh ye, nama doktor yang merawat dan operate i ialah Doktor Razipah. Baik orangnya dan juga tegas. Nasib baik Pusrawi ada surgeon perempuan.ALhamdulillah. Kalau lelaki aiseymen xtaula nak cakap macamana.
To be continue...
Thank you for reading my story
:)